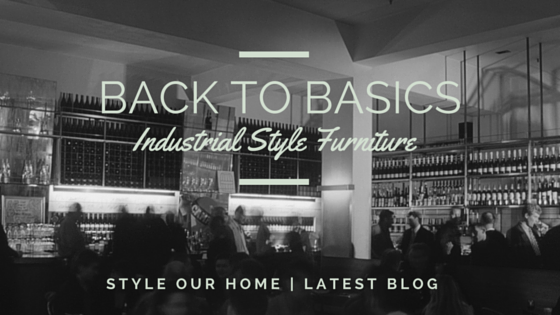 What Is Industrial Style?
You may feel you are not familiar with industrial style, but you probably recognise it more than you realise. It is a current and trending style, that until recently didn't really have a name. The word itself triggers images of factories, and that isn't too far off but that is no reason to be afraid of exploring this theme! A large advantage to this trend is that you can utilise as much or as little of it as you like and you can choose pieces that work with your décor without fully committing your whole room. Our website offers a wide selection of visually pleasing pieces from our Industrial collection and have been inspired by the era itself using authentic vintage designs and made to enhance the backdrop for modern interior design such as this stunning wooden hall bench and coat rack that provides a fantastic urban edge whilst having a rather contemporary design, perfect for giving the best first impressions to your guests.
Industrial style utilizes raw elements of nature, structured in a clean cut layout. It emphasises frequent use of raw steel with exposed brick elements and rustic woods. The modern alternative also frequently embraces copper-tone ornamentation. A perfect starter to your industrial space would be a simple metallic piece such as our Libra Bardem Large 3 Drawer Dresser is perfect, the unique and trendy design of this piece is illustrated through rivet detailing giving an industrial charm to the piece. The aged silver metal finish makes this an eye-catching addition to your home.
Start with What You Have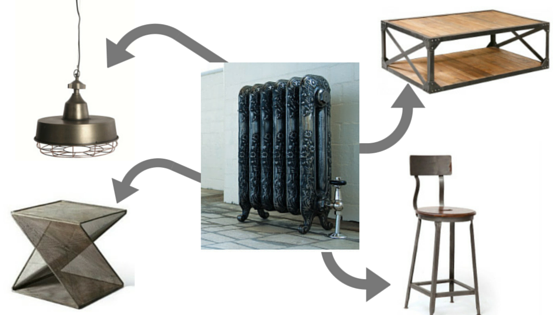 Maybe you have one exposed beam in your ceiling, a vintage steampunk coffee table, or perhaps it is just an old style radiator. Whatever it is, find that one piece you have that already uses raw natural materials and brainstorm from there. As an alternative to hanging art, try positioning large wall pieces against a table. This generates a fragmentary appearance that is in keeping with the industrial style.
Keep It Grungy but Simple
Copper and Galvanized metals are a fantastic approach to achieve an industrial feel. This style succeeds by using metal so contemplate buying a metallic sculpture or wall piece whilst painting your space with a touch of grey to set the scene for the design structure. Choosing a grey with cosier undertones will add warmth to the area. Open space is the key to keeping it simple and modern industrial schemes characteristically look paramount when in balance therefore choosing useful items that are also functional in your space is a superb option, perhaps our vintage wine rack is the piece with the perfect blend of old fashion vineyard combined with urban chic.
Vintage is Always the Answer

Contemplate items you might typically fail to notice. Get imaginative and use refurbished and reclaimed wood and metal to customise your space. There are numerous ways in which the industrial style is influenced from both contemporary and vintage to create its exclusive look. Utilising our Industrial 18 Drawer Apothecary Chest in an open space floor plan can add useful vintage flair, you'll never run out of storage space with this superb chest. Vintage foundations can add a great deal of warm-heartedness to an otherwise tough look.
If the softer look is more to you're taste, you may prefer our Libra A Frame Stainless Steel Console Table with Glass Top due to the fusion of glass and stainless steel illustrating a highly contemporary design making for a truly unique and eye-catching table. The A Frame legs define the iconic design giving a subtle hint of the industrial to this wonderfully stylish piece.
Nothing Wrong with Having A Soft Side

Do not forget to add accent colors and a few throw rugs. Although an industrial design typically shows itself best with a grey color scheme, it is sometimes suitable to add a little color, so don't worry this will not disrupt the over-all style. The use of colour can be accomplished with the use of soft furnishings, accessories and art. Our Industrial Square Cafe Table is fantastic for that softer feel you desire when entertaining. Adding placemats, pillows and rugs with soft textures can soften up a room's appearance.

Why it's Here to Stay
An industrial space can span from a contemporary factory look to a complete steampunk nirvana; Usually, it is best to end up somewhere in the middle. One of the celebrated roles of the industrial style is that it encourages the use of upcycling and using rescued charity shop items. Though buildings and offices have incorporated this style for years out of necessity, designers are now choosing it as a purposeful design. Industrial style is a trend as of late but due to its ability to merge modern and rural type furniture, it is clear this style is here to stay, and Style Our Home are here to assist you every step of the way.